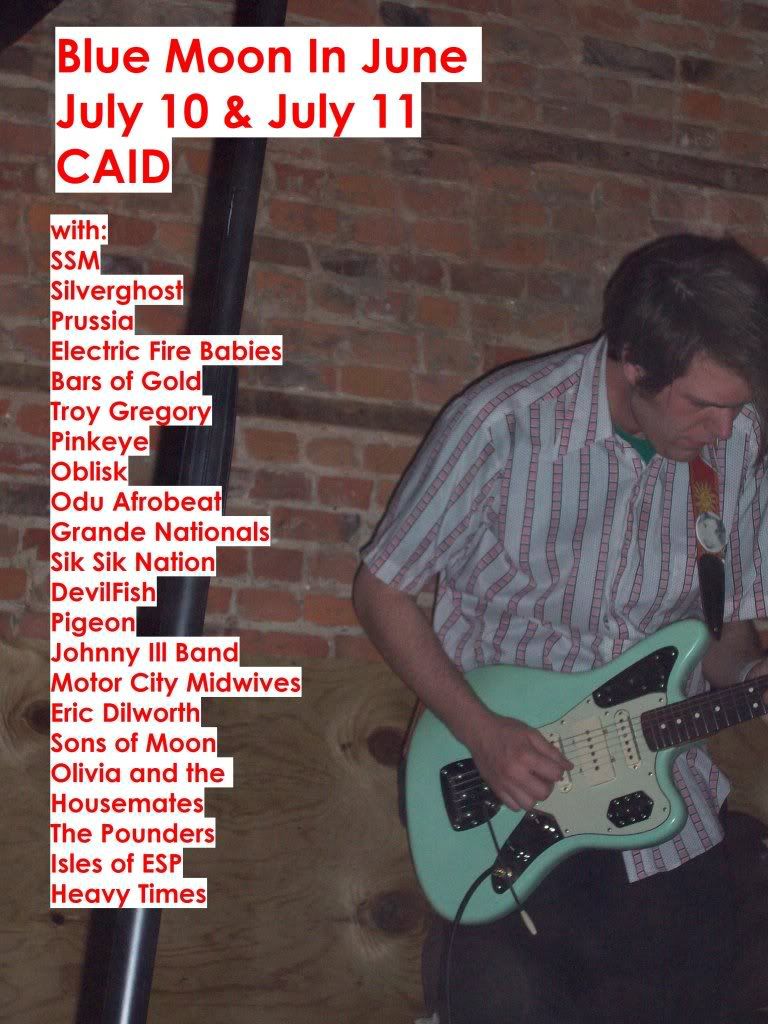 The Blue Moon in June festival celebrates its third year of commingling indie rock, pop, electro-dance and psychedelic rock, inside the cozy scuffed space of the Contemporary Art Institute of Detroit. The psychedelic barbecued smorgasbord features 20 BANDS and spans two days, July 10 and July 11 - (with the option of grabbing some grub and rolling out a sleeping bag on the grassy knoll-like fenced-lot beside the CAID - wake up the next morning beside your similarly ear-fried/beer-swathed comrades, stretch, greet the sun and step aside as the next ten bands load in for another consecutive night of non stop music. 5141 Rosa Parks Blvd 48208
as Oscillating Fan Club guitarist Pierce Reynolds put it:
"I think the blue moon in june is best described as a mysterious concoction of incredible music and bands and friends old and new celebrating Detroit and Summer the way it should be, with loud, psychedelic, garage-informed and just plain garage poppy rock. If you can dance and you like caterpillar-like fuzzy melodies, I think you could do a lot worse..." - Pierce Reynolds"
(Deep Cutz 6/26/08)
~
Info From The CAID:
Friday July 10 - DOORS 8PM - SHOWTIME 9PM
line up includes: Isles of ESP, Johnny Ill Band, Olivia Mancini & The Mates (from D.C.) Electric Fire Babies, Pigeon, Troy Gregory, and SSM ($5 for Friday, or $8 for both nights).
For those who camp out that night, there will be a pancake and mimosa breakfast from 11 AM to 1 PM on Saturday (contact the CAID to reserve your breakfast
info@caid.org
) - followed by a bicycle scavenger hunt from 3PM - 6PM (featuring Ferndale's own
DEFYING THE LAW BICYCLE CLUB).
Saturday July 11 - DOORS 5PM - SHOWTIME 6PM
line up includes:
DevilFish, Sik-Sik Nation, Sons of Moon (from New York), Heavy Times (from Oakland CA), The Pounders, Prussia, The Grande Nationals, Pinkeye and Oblisk.
the current line up: (with pictures from last year's show):
isles of espthe
johnny ill band
electric fire babies
olivia and the housemates
pigeon (pictured, at least one member...below)
troy gregory
ssm
devilfish
sik sik nation
sons of moon
the pounders
heavy times
the motor city midwives
prussia (pictured below)
grande nationals
pinkeye
oblisk
bars of gold (pictured, in Wildcatting form, below)
eric dilworth
silverghost (pictured below)

odu afrobeat