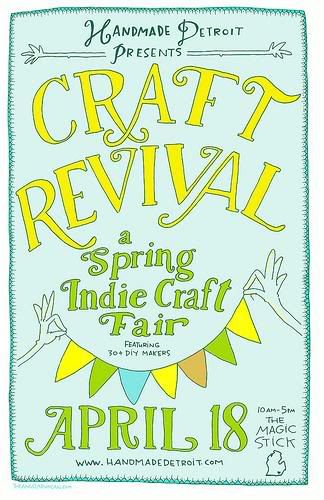 The crafted-art-enthusiasts of Handmade Detroit are hosting "Craft Revival" Saturday, April 18, from 10 a.m. to 5 p.m., inside the Magic Stick (2nd floor of the Majestic Theatre complex). It's that lull of Spring, where the motors of warmth, cheer and a more laid-back fancy free are still being stalled by lingering chills or spitting rains. So in comes a cadre of DIY-artists with a swath of flavorful knick-knacks, jewelry, clothing and art to sufficiently spruce things back up.

The Craft Revival features 30 vendors offering everything from unique homemade t-shirts, hand-thrown pottery, stellar silk screened posters and stained-glass nightlights resembling famous folks' faces.

Handmade Detroit is joined by the Detroit extension of Yelp.com, a popular local review site where shoppers can find out where and how to support local businesses like restaurants, shops, markets, bookstores, record stores...anything.


So, revive your taste for not only the arts, not only the outdoors, but also festivals - as Craft Revival can whet your appetite before other big to-dos like the Detroit Urban Craft Fair or the DIY Street Fair.

For more information, check out handmadedetroit.com or detroiturbancraftfair.com/spring.
~


P.S.

The man once known as Smog, singer/songwriter Bill Callahan released his 2nd LP under his given name (on top of more than a baker's dozen of Smog recordings). The album,
Sometimes I Wish We Were An Eagle
, as well as dream-talk, cryptic poetry and tree branches resembling a cerebral cortex...are all discussed on my first interview/assignment for
Tiny Mix Tapes
read here
Bill Callahan on myspace