In Other News: Michigan Music Exchange at The Loving Touch on Saturday (and also Wild Years tonite)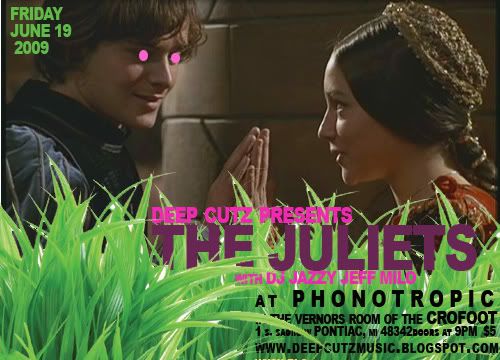 The Juliets started in the autumn of 2008 when singer/songwriter Jeremy Freer (formerly of epimonious soul-pop quartet, Freer) opened up to friend Kaylan Mithcell (known for her cello work with Ann Arbor's Canada) and played her songs he'd been working on between bands. As a pianet/keyboardist, Jeremy draws heavily from Chopin, but as a guitarist, also wanted to mix in a weird, strummy folk style. Mitchell invited friend Sarah Myers (on violin), who, like Mithcell, has a background in classical music, and the trio debuted at December's Mittenfest weekend at the Elbow Room in Ypsilanti.
While recording a debut through winter and spring, the band was rounded out to a quartet, when Jeremy's longtime friend (and often collaborator) Scott Masson (from the once-Chicago-based, now-Detroit-based fuzz-rock/pop sensation Office) joined on drums. Check out their hybrid of piano-friendly folk, a mix of edgy punk and smooth and classy 60's baroque pop at:
myspace.com/julietsband
. See them live, June 19, at Vernor's Lounge (inside the Crofoot) for Phonotropic Phridaze.
~
Saturday at The Loving Touch in Ferndale
- (that pool hall next to the Woodward Avenue Brewery that sounds like the kinda place to offer "happy endings") will host Detroit area artists – be they old pros or new DIY-ers, record labels, poster artists, t-shirt printers, local bands, et al. You can find new albums (some of them endearingly burned with self-designed covers, perhaps) rare out of print stuff from unassuming new contacts and anything else.
It's free. Come and check out the smorgasbord – and feel free to bring some of your stuff. It's all meant to support our local music community.
Participants include -
Gang Plank, Bellyache Candy Shoppe/ Records, X! Records, Five Three Dial Tone, Suburban Sprawl, Leroy St., Unfortunate Miracle, Jack Holmes Recording Company, Silent Giants, Quack! Media, Hall of Owls, Ferndale Public Library, Woodbridge Records, Deep Style Clothing, No Fun Records, and more...~
Need something to do tonight?