Listen at:
www.myspace.com/almostfreemusic
Almost Free
is a trio that brings together the best of proverbial alt-rock styles (with pedal-effected guitars, bending solos and spindly high-neck fret throttling that can recall the now-nostalgic big-muff shred of
Smashing Pumpkins
, tempered by a more esoteric stateliness ala
Radiohead
) paired functionally with a palpable penchant for classic surf rock's sunny timbre, (a recipe that will recall influences like The
Pixies
). But this seemingly straight-forward approach is given a bit more of a gritty uppercut by a tight and calamitous embrace of post-punk: propulsive percussion tornado-ing forward over wavy bass lines that set that fractured dance vibe – not so much anthemic floor-hitters but an intricate and enjoyably jittery take on the traditional toe-tapping head banger pound.
Almost Free, (with Andy Bird on vocals/guitars, Bob Impemba on bass and Garren Stevens on drums), hails from Sterling Heights, where the trio grew up together. They've been forging their musical chemistry since they were 16 and have since played hundreds of shows 'round the Metro Detroit area, most recently at 2007's Metro Times Blowout. Their upcoming LP, Modern Mistakes (to be released March 21st at Small's Bar in Hamtramck) shimmers with cold and cutting, hard rolling jams – these art/punk raucous runs are burning high-flying guitars that reach tones both dreamy and chilling, rumbling bass grooves that wave and flex over rigid, punchy rhythms.
The songs are raw and haunting, but not necessarily dark – there's a pain in Birds raspy howls that never suggests vulnerability, nay – resoluteness and perhaps disaffectedness. The music, in tone, paints that classic Radiohead-esque picture of scorched dystopias drowning with malls, fast-food and smog but reaches prog-rock recalling tones, fuzzy and cerebral, that soar up and over and into the twinkling skies above – hard, herking jerking rock at times, but often ethereal enough to constitute escapist ballads. In rhythm it could be as fuck-all punk as the grimiest Nirvana or as disarmingly intricate as Pixies or classic 70's post-punk.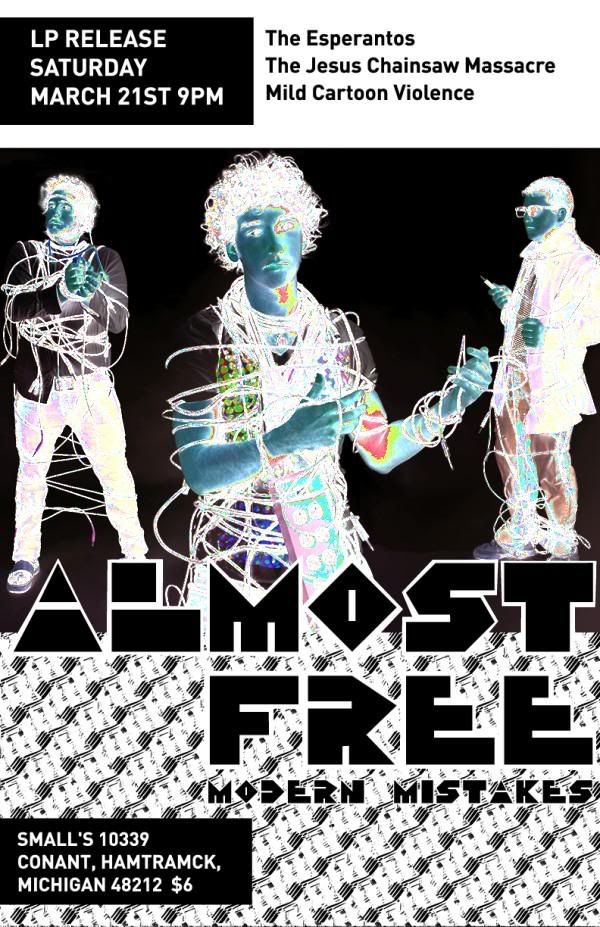 Recorded at the Audio Café with help from Jeff Campo and Tom Rice, the band self-releases
Modern Mistakes
at a celebratory show with Plymouth based rock trio that's also actually a blog...
Jesus Chainsaw Massacre
(
listen
), Bay City garagey power pop trio,
The Esperantos
(
listen
) and and the nigh-impossible-to-search-for-via-google:
Mild Cartoon Violence
, at
Small's
on
March 21st
. An intriguing line up, strong and weird...hopefully this'll turn some heads…