with:
Spitting Nickels, The Muggs, The Hentchmen, Deastro, The Silent Years, The Friendly Foes, The Displays, The Pop Project
We go on and on each year…hell, sometimes every six months… Books, blogs, newspapers, go on exalting the tremendous vitality of Detroit in rock n roll history, forged by all the grimy blue collar hunching, sweat-beaded back-breakers that have passed through our crumbling gates.

We go back to John Lee Hooker, migrating up here with many Delta/Memphis musicians in the '30s looking for work in then-booming factories – subsequently helping to energize blues music in the city. As the Muggs (below) singer/guitarist Danny Methric emphasizes, "…go back to where it all really happens, start with the blues! Kids always ask me, 'how'd you get to where you're at as a guitar player…I go, 'the BLUES.'"

From there, our reverent regaling points to the birth of rock in the 50's - inspiring bands like The Fugitives and Hank Ballard & The Midnighters. Then, in the early 60's, you have the opening of venues like The Hideout in Detroit or the Fifth Dimension in Ann Arbor. Venues like these, also featuring bands like The Rationals, the Frost, The Up and some other cat named Bob Seger, helped spur a new energy – some kind of spaced-out caveman torrent; spastic hard-chugging passion – something chipped from crumbling cement, steamed with sewage smoke and drunk on life, drunk on something, drunk on…a flailing release, a tightly locked in rhythm, a grimacing guitar, a therapeutic, declarative howl…get crazy now baby. Above all else, as the Stooges lead singer, Iggy Pop and the MC5 would later demonstrate through the late '60's – we were about energy!

We took the tragedy, the passion, the grit of the blues and we made it sharper, noisier, more rousing – we turned it into punk rock (We took the carriage and we turned it into the automobile. We took gospel and we turned it into pop – we turned it into Motown. We took disco and house and we turned it into techno. We are Detroit.) We're unavoidably, often unabashedly, and…most times, deservedly, proud of our history. I, myself, will always lift a glass to the revolutionary work of Creem magazine (staring out here in '69) – but you've already heard enough song and dance about how much we owe the past…

"I think you need to respect where all this comes from," said Eddie Baranek, drummer for Spitting Nickels (top photo) and also of The Sights and Expatriates). "Because, what you're doing is really not that original, even though you probably think you're original… I'm not that original, ya know? You're basically repackaging and recycling something for a newer generation that hasn't heard it yet…"

Baranek, with Spitting Nickels bassist John Bissa, were bantering on bar stools one late winter's eve, with Bissa, as he often does, pitching another "crazy idea" for a show to his bandmate. The pair were "trying to decide how to celebrate [Baranek's] birthday (April 5). In a couple minute's time, we realized it was the same weekend as the Final Four. We also realized what a great opportunity there was to put a big show together for the day that there was no game (Sunday-also April 5). It just seemed like serendipity."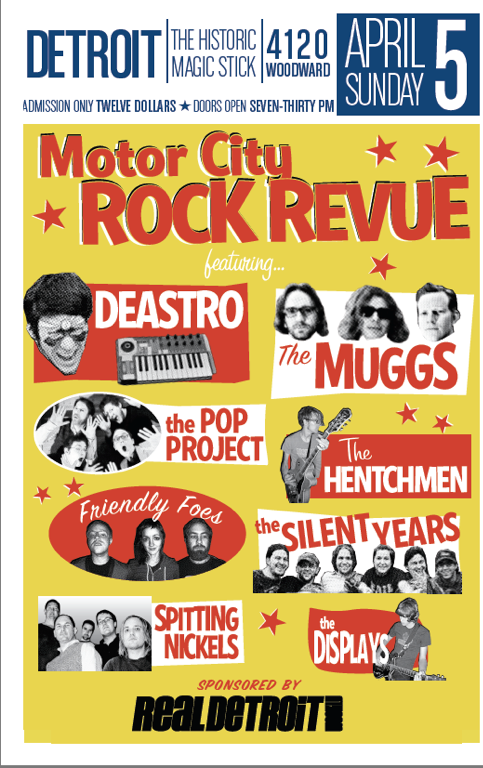 Hence, a few phone calls and some emails later – the Motor City Rock Revue was born. It features a wide, varied arc of local music, from rock, to pop, to electro, to shoegaze: The Hentchmen (venerated garage-pop trio, formed in 92); The Muggs (fiery blues trio, performed at the final show for now-legendary Detroit garage-boom venue The Gold Dollar in 2001); Spitting Nickels (a humble gang of long-time appreciators of Detroit rock, fueled by uncommon camaraderie, pure passion and inspired to forge an homage to their fallen friend, late band mate, guitarist Tom Furtaw); The Displays (spanning garage/indie and a bit of lo-fi pop, these teens have been playing around town for 3 years and take a lot of inspiration from Detroit rock of the '60's); The Friendly Foes (newer indie-pop trio comprised of players from numerous other Detroit bands, including Thunderbirds Are Now!); The Pop Project (ten years together, this tight, 70's-power-pop inspired quartet of songwriters weathered the raucous garage boom when it was, as singer/guitarist Dave Lawson says "not very fashionable to be singing harmonies in Detroit," band pic below,); The Silent Years (indicative of the new direction for Detroit music, more experimental, embracing classic pop sensibilities as transformed through layered instrumentation, reverb and a deconstructionist writing style); Deastro (energetic, electro-centered, slightly-danceable pop that feels more arty-New York or Euro-dream-pop by the day – but still unyieldingly dedicated to their hometown).

"The central idea for this show is simple," said Bissa. "We have a fantastic local music scene and, on that weekend, we have a great opportunity to share it with the world. For one brief moment, we have the world at our doorstep…we should absolutely take advantage of it."
The Revue comes to represent many things: a look back to the past, a celebration of
Detroit
, an offered sample of the current musical/cultural climate to the Final Four crowd and a look toward the future.
"It's crazy to think that in some way the Muggs are a small part of the 'Detroit lineage,'" said Muggs bassist/keyboardist Tony DeNardo. "[Methric] and I started out when we were 21 years old and just threw ourselves into the music scene. We were going out every week and weekend to see what Detroit was made of…Man, I used to dream about performing at the Magic Stick and other big Detroit venues in my early 20's. We are the 'elder statesmen' on the scene nowadays and I'm proud that we are sticking to our collective vision as a band…"

Now, whenever music journos or record-store aficionados or bloggers start prattling on about Detroit Rock History and replaying the same rigmarole worshiping of the 60's you read above, like the Stooges, MC5, fill-in-the-blank…etc etc – now…we can look back, 10 years on, from what's commonly referred to as the Garage days, or the garage explosion, or the White Stripes days…


Methric recalls the duo happening upon the Gold Dollar for the first time, in the late 90's, and catching a band called The Hentchmen performing. "And just, ahhh, I can't believe this! What kind of music is this, I never heard anything like that! This is right before the whole garage movement took off…We were very fortunate that that scene took us in." Methric points to Detroit musicians like John Lee Hooker (and Mitch Ryder and the MC5) as key influences for his passionate guitar work, often revered for its mind-melt-ability. "…having a respect for history, the music is just so fantastic. It's just an addiction, I gotta hear it, I gotta see it."

The days of the garage boom, to put it kindly, are history. Which means two things – we can properly qualify it, for the energy it infused into the scene and the city's musicians and, secondly we can start, justifiably, moving on… to the Deastros, the Silent Years of the future…(ed. But then again – the focus here isn't so much past vs. future – it is more towards, Hello World – We are Detroit – Come get a taste…bang your head, shake your ass, listen to what we got…)

Lawson's band, the Pop Project (far from garage, though its members have connections to the sound and style), serves as a good bridge between the garage boom and the now more indie-pop, harmony-heavy inclination of newer bands. Lawson asked the Silent Years to play to "make sure there was a full spectrum of current Detroit rock involved. I feel like there's a view of Detorit as this garage-rock world. Obviously there's a lot more to it, anybody whose here knows that, so it's good to have it all under the same roof, which does not happen enough. I feel like the (musical) landscape has broadened a lot more in the last 5 years."

The
Displays
(above) singer/guitarist Andrew Hecker (whose band released their Jim Diamond-produced full length
Ain't Gonna Put Us Down
) called me out on asking him, during our first interview in 07, if at that time he felt Detroit, as a motivated scene, was dying, a floating sentiment at the time… "…and now, just like a year or so after? I've never heard that mentioned and things really seem to be shaping up for the town. So many new bands popping up, I feel like the town's music scene's more alive than it's ever been since we started playing 3 years ago. And I really feel hopeful for the city…
News:
Look for more appearances from The Displays throughout the summer. Meanwhile, check out The Silent Years online to hear songs from their newest EP, tentatively Let Go, with more "globe"-trotting touring). The Muggs are looking to record their next full-length, a follow-up to last year's On With The Show. Deastro is releasing a 7" with Five Three Dial Tone and unveiling his debut full-length Moondagger. The Friendly Foes will tour eastward on their recent release Born Radical (with tourmates, locals Prussia). The Pop Project look to record a split-EP with local comrades The Recital (while they prep material for another full length).

The Hentchmen have been spread out, with keyboardist John Szymanski has been touring in SSM, drummer Mike Latulippe has been playing with Speedy Greasy and guitarist Tim Purrier has been training for the Tour de France and writing wine reviews. They're getting ready to release the second of four 7-inchers, ("the latest on Italy Records.") The first came out on Bellyache Records in July 08.

Finally, Spitting Nickels (with keyboardist Ben Borowiak, singer Dennis Miriani and guitarist Chris Brosky), have several shows lined up, including a Chicago gig. They hope to record over the summer with a release in the fall or winter this year.